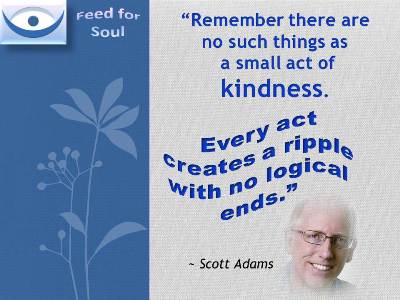 "Men are only as great as they are kind."
~ Elbert Hubbard
"Let us more and more insist on raising funds of love, of kindness, of understanding, of peace. Money will come if we seek first the Kingdom of God – the rest will be given."
~ Mother Teresa
"The truest greatness lies in being kind, the truest wisdom in a happy mind."
~ Ella Wheeler Wilcox
"There is no small act of kindness. Every compassionate act makes large the world."
~ Mary Anne Radmacher
"A small act of kindness can make a big difference." >>>
~ Ken Wert
"Remember there are no such things as a small act of kindness. Every act creates a ripple with no logical ends."
~ Scott Adams
"You cannot do a kindness too soon, for you never know how soon it will be too late."
~ Ralph Waldo Emerson
"Day by day, fate gives you nothing but a chance − a chance to grow wiser, stronger and kinder. Realize this, and you will transform your life."
"My religion is very simple. My religion is kindness."
"One kind word can warm three winter months."
"Even a cat appreciates kind words."
"Forget injuries, never forget kindnesses."
"Always show more kindness than you think is necessary because the receiver needs it more than you know."
~ Arthur Caliandro
"Tenderness and kindness are not signs of weakness and despair, but manifestations of strength and resolution."